Massage Therapy at
Active Family Chiropractic
Everyone could use a little time to de-stress. In today's world, we all face plenty of demands that can leave us exhausted and aching. A massage is the perfect way to relax and let all those stresses melt away. This type of bodywork is available in-house at Active Family Chiropractic.
We offer many techniques. These include Swedish, Deep Tissue, Trigger Point, and Reflexology.
The Benefits of Massage
While you may think of this modality as a posh spa treatment, it has many incredible benefits. These include the following:
Promotes relaxation
Reduces stress
Improves circulation
Alleviates pain
Eliminates toxins
Improves flexibility
Enhances immunity
Reduces fatigue
Alleviates depression & anxiety
Assists with post-surgery recovery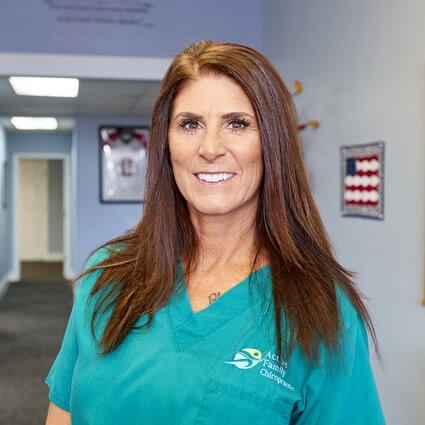 You don't have to be a chiropractic patient here to get a massage. We often do, however, recommend both to our patients.
If you have bodywork before your adjustment, you'll be able to receive your adjustment easily. You can also be aligned by your chiropractic adjustment first, then get a massage afterward, knowing everything is in place. Doing so will ensure you're not as sore following your session.
Our Massage Fees
Prices are $45 for half an hour and $60 for an hour.
Get to Know Our Licensed Massage Therapist
Our LMT Cory Wittman is here to help with a variety of different concerns. Whether you have one area of your body that's bothering you or want to experience a high level of relaxation, Cory has the skills to accommodate you.
How is massage different at Active Family Chiropractic?

Receiving this therapy at AFC is different, as it is performed in a chiropractic setting. Our patients are treated for not only their aches and pains but their overall wellness. Everyone that walks in the door is treated like family.
Who can benefit from receiving this natural therapy?

Almost everyone can benefit! Whether you are an athlete, office worker, stay-at-home parent, or spry senior, there is a technique that will help promote your overall well-being. Cory is happy to schedule clients for relaxation, stress and pain relief."]What will I feel during my session?"]
You'll feel the pressure taken off your muscles. In turn, the joints of your body are positively affected since the muscles are attached to the joints. You'll feel a general alleviation of stress throughout your full body.
Do you work with the doctor to manage my care?
Yes, Cory works closely with
Dr. Trenary
. "I am able to not only get to know his clients, but I know their medical history and get a direct referral from the doctor. That helps to know which areas need to be focused on to give the most benefit," said Cory.
Do you offer gift certificates?

Yes! These make great gifts.
Is there any particular way to prepare for my session?
First and foremost, relax. Try and time-manage, so you are not rushed getting to your appointment. It will help with the overall experience. Be sure that you are well hydrated. It is not recommended to eat for 2-3 hours prior, so your body has time to digest.
(Also, lying on a full belly can be uncomfortable.)
Bathe before coming in and use proper hygiene. Make sure to communicate openly and honestly with Cory.
Is there anything I should do afterward?

It's essential to hydrate afterward to help cleanse the body of toxins released by the muscles during a massage.
Call Today
Schedule your time to relax. Contact our team now to book your massage therapy Mason City session! Flexible appointment times are available.
CONTACT US »

Massage Therapy Mason City, Clear Lake IA | (641) 201-1975