Meet the Team
Chiropractic Assistant
My name is Brandy Rossmiller, I am a Chiropractic Assistant to Dr. Trenary. I previously worked for a chiropractor in the Quad Cities before moving to the area and starting at Active Family Chiropractic. I love working in such a positive and friendly environment. My coworkers are amazing and our patients are all so wonderful. Truly my favorite part about my job though, is seeing people leave happy and feeling better. It is so rewarding being a part of their health journey!
Active Family Chiropractic has really evolved the way I view chiropractors in the sense that our team is so personable and puts in the effort to get to know all our patients and be able to help them in any way we can.
When I am not working, I am at home with my 14 year old cat, hiking with my 100lb. dog or adventuring with my friends. I also love live music, writing, drawing and reading.
Massage Therapist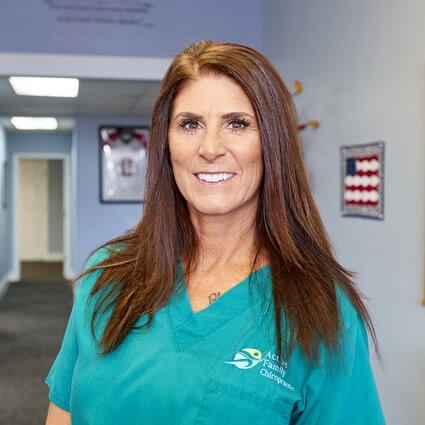 My name is Cory Wittman and I am a Licensed Massage Therapist and Office Manager at Active Family Chiropractic. I have worked in the field of chiropractic for 29 years – since my senior year of high school! I started in my hometown of Santa Cruz, California, continued when I moved to Las Vegas, Nevada for 10 years and now here I am in Mason City, Iowa. I am graduate of La James College of Massage Therapy in Mason City.
My favorite thing about working at Active Family Chiropractic is the patients! They are the best… Their sincerity and kindness is contagious. Helping them in their quest to reduce pain and maintain overall wellness is a passion of mine. There is also nothing better than seeing a little child spring back to the doctor for a treatment, because they know how good they feel after. Their smiles are the best!
Dr. Trenary's kindness and compassion towards his patients and staff is unmatched. He was completely supportive of my decision to attend school and become a licensed massage therapist. I have been a chiropractic patient since I was a child and Dr. Trenary's techniques have continued to support my overall wellness and well-being.
I spend most of my time with my husband and 2 dogs and love to stay fit at the gym, dance to country music and travel! We are a very active family and love doing things outdoors, home projects, taking in local activities, motorcycle rides and booking trips to visit family or anywhere tropical!

Active Family Chiropractic Team | (641) 201-1975